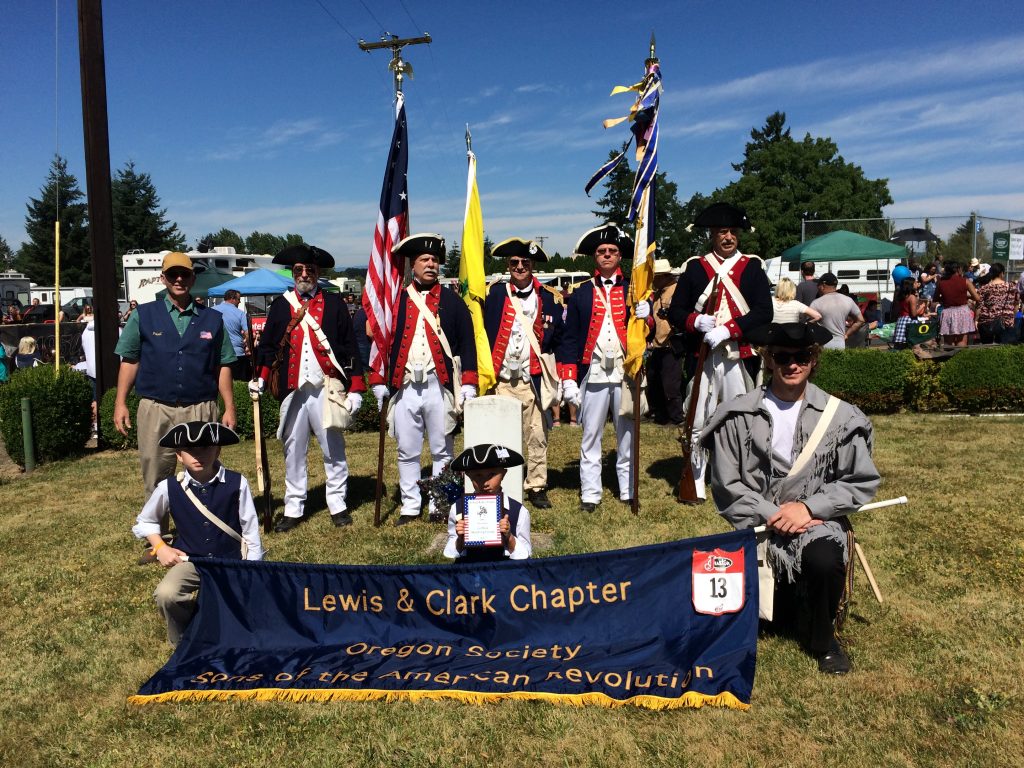 The Lewis and Clark Chapter was instituted April 4, 1992 and is the youngest chapter in the Oregon State Society. At the time of institution, the chapter was composed of 15 members, five of whom were ORSSAR Past Presidents and one was Former Vice President General, Pacific District. The Chapter has since provided several more Presidents to the State Society and another Vice President General to the Pacific District NSSAR. It has grown rapidly since it was instituted and at the present time has about 70 members and is the largest chapter in the Oregon Society. The growth experienced by this Chapter and the members it has gained for the SAR is the primary reason for the ORSSAR being awarded the Kentucky Cup Award at the NSSAR Congresses in 1993 and 1995.
The Chapter has many activities and its rapid growth and success may well be attributed to the fact that it has something to offer everyone that wishes to get involved. These activities include sponsorship of the Calapooia Society, CAR; bi-monthly Red Cross Blood Drives; American History presentations in schools; recognizing the 4-H Club program by annually presenting awards to the outstanding 4-H Club Members of Clackamas, Multnomah and Washington Counties; and the presentation of a number of Lineage Workshops, on many occasions in cooperation with DAR Chapters.
One of its most prominent and best publicized activities is its Continental Uniformed Color Guard that participates in a number of parades, Eagle Scout Courts of Honor, many veterans and patriotic functions, including the Annual Beaverton Memorial Day Program. An additional important program is the recognition and support of law enforcement by rewarding those who perform meritorious services in this field with Law Enforcement Commendation Medals. Individuals performing outstanding community service are likewise recognized by awarding them Good Citizenship Medals. The Lewis and Clark Chapter publishes a periodic newsletter, entitled "The Journal".
One of the specialties of the Chapter is to provide genealogical assistance to those who are seeking membership.
The Chapter meets on the first Saturday of each month at 10:00 AM at the Beaverton Resource Center, 12500 SW Allen Blvd, Beaverton,Oregon 97076, at the corner of SW Allen Blvd and SW Hall Blvd. We often join for lunch afterwards at the Village Inn, 10650 SW Beaverton-Hillsdale Hwy. in Beaverton. Wives and guests are always welcome.