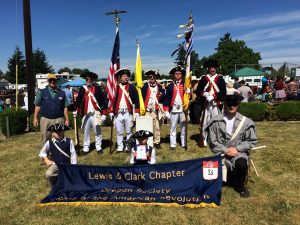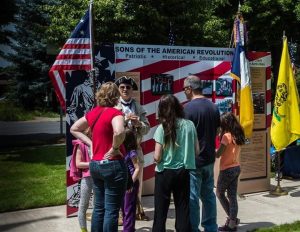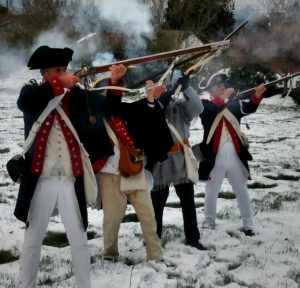 The Lewis and Clark Chapter represents the greater Portland Metropolitan Area for the Sons of the American Revolution. We are a patriotic community service organization with membership based on our common lineage from those who fought for, or directly supported, the cause of the American Revolution.
We share a common background, that of our Patriot Ancestors who fought or helped in many ways to form our country, the United States of America. In doing so, they stood up to the tyrants of the day, and formed a more perfect union. We, in our humble way, honor their memory, as we honor our Veterans, the patriots of today.

Please Help Us Place Wreaths at Willamette National Cemetery, Arlington National Cemetery and Over 1200+ Other Participating Cemeteries
Our ongoing fundraising program is in conjunction with Wreaths Across America who have expanded its program to enable cemeteries all over the Country to place wreaths on individual veterans graves to emulate the Arlington Wreath Program.
Sponsor a Wreath
Your support makes all the difference in making our mission a success. Help us place a wreath on all our fallen heroes' graves this December 16. For $15 per wreath you can choose to sponsor a wreath at a cemetery location or our local fundraising group for Willamette National Cemetery.
All wreaths are laid by volunteers on National Wreaths Across America Day – December 16, 2017. 
Each year, the National Society Sons of the American Revolution (NSSAR) honors outstanding Eagle Scout applicants with the Arthur M. & Berdena King Eagle Scout Scholarships. There are 3 awards, the first place award being $10,000. Eagle Scouts can apply through the local SAR Chapter. The Chapter Winner is then judged at the state level. OSSAR then sends the winning application on for national competition.
Our Lewis and Clark Chapter is involved in a variety of activities.  Members and our uniformed Continental Color Guard proudly participate in local parades, ceremonies and patriotic events. Members provide historical programs for local schools.
Our chapter meetings include interesting speakers and programs designed to promote patriotism, to honor our history and to provide service to our community. We welcome visitors and guests. We are ready to assist with applications for those who wish to become proud members of Lewis and Clark Chapter, SAR.
A Message from our President
Compatriots, Happy New Year to all!
I would like to focus on two projects and ask for your support. The first is to improve our chapter communications program. The new newsletter is key in this effort. The second is to establish a process to finally get our Oregon Revolutionary War Memorial in Beaverton funded and erected. I think we can make both of these happen. But I also want very much to see greater participation and hope more of you will attend chapter meetings. The best to you and yours for the coming year!
-Mark Robertson, President